Meet Dr. Christina Violante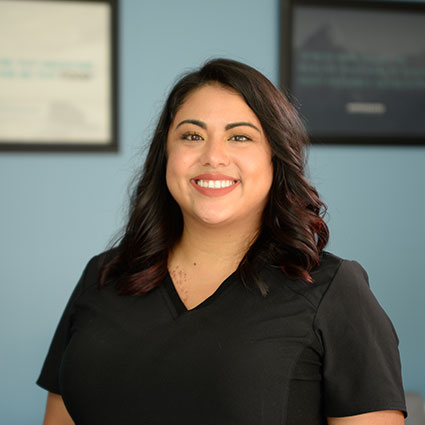 For Dr. Tina, getting patients out of pain quickly is one of her greatest passions. She wasn't always a chiropractor. Before entering the natural healing profession, Dr. Tina was a social worker. She worked in both foster care and refugee resettlement.
Dr. Tina also was a yoga instructor. "My path to chiropractic was a little bit different than most in that I reverse engineered a career that I felt best suited me."
At the time, Dr. Tina often went to see her chiropractor. One day she talked to him about how she saw health and wellness and how her philosophy on treating people aligned with chiropractic. She liked that, with chiropractic, she could meld the physical and caring aspects of the natural form of health care.
Chiropractic Education
Dr. Tina earned a bachelor's in psychology from Kalamazoo College. She then attended the University of Western States, graduating in 2019.
Providing Care You Can Trust
Dr. Tina genuinely cares for her patients and is invested in them. She also takes the time to listen to their concerns. Then, she will provide her best recommendations. "I always will be honest with them about what I see and what I think is the best way to proceed." The choice, however, is always up to her patients.
Making People's Lives Better
Whether she is providing care for a factory worker, busy mom or young athlete, Dr. Tina is highly passionate about making people's lives better. In particular, she finds it highly fulfilling to help those who have been in chronic pain for years.
I've had patients who've had these debilitating issues cry or start laughing on my table because for the first time after just one five-minute treatment, they don't have pain. And they know they're able to live a life without pain.
She wants patients to see how essential chiropractic is in not only relieving their pain- not treating a symptom-but giving them their life back.
OUR SERVICES »
"My mom is an immigrant from South Korea, so I come from a bicultural biracial background." Dr. Tina studied abroad in Ecuador and also speaks fluent Spanish.
"One of my greatest passions as a woman of color is racial equity, and ensuring that blue-collar workers from minority backgrounds are getting the care they need." She wants to expand care to those populations that normally don't access chiropractic and create an environment where they feel welcomed and supported.
When she's not at the practice, Dr. Tina enjoys watching Netflix and trying different restaurants. Pre-quarantine, she enjoyed attending various charity events for different social justice organizations.
She also likes to play a little guitar and had sung in an all-women's a cappella choir in college. Dr. Tina enjoys visiting her parents almost every weekend.
Book an Appointment
Contact Novo Chiropractic Sports & Wellness Center in Wyoming to schedule an appointment with Dr. Tina!

Dr. Christina Violante | Novo Chiropractic Sports & Wellness Center