Meet Dr. Derek Munson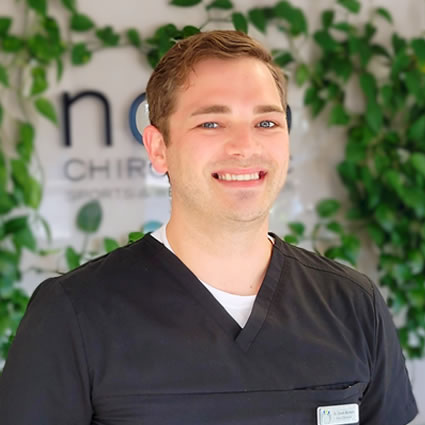 Before becoming a chiropractor, Dr. Derek spent two years as a medical scribe and had worked in the healthcare field for some time. "I had a good glimpse behind the curtain of the healthcare industry and it opened my eyes to what kind of doctor I wanted to be and what kind of patients I wanted to treat."
That Aha Moment
As Dr. Derek had seen a chiropractor all of his life, he had one of those profound aha moments of "Why hadn't I considered this before?" After going to his chiropractor and talking to them about the idea of going back to school they were very encouraging. "All the signs pointed toward this is how I want to treat patients and conservatively care for people."
After being given strong painkillers following an appendectomy, Dr. Derek was drawn even more to conservative chiropractic care and having the ability to help people with just his two hands.
Chiropractic Education
Dr. Derek first earned his bachelor's from Saginaw Valley State University. He then attended Northwestern Health Sciences University in Bloomington, Minnesota, graduating with his Doctor of Chiropractic.
Changing People's Lives
For Dr. Derek, one of the most fulfilling aspects of being a chiropractor is affecting patients' lives for the better. He cares for patients of all ages, from children to seniors. While Dr. Derek helps many people get out of pain, he wants them to recognize the value of preventative chiropractic care.
Open, warm, and welcoming, Dr. Derek also enjoys getting to know his patients. With an upbeat and jovial personality, he loves to smile and laugh and takes pleasure in seeing others do the same.
OUR SERVICES »
Outside the Practice
When he's not caring for patients' spines, Dr. Derek enjoys spending time with his wife, whom he met at Saginaw Valley State. He also likes being on the lake, fishing, hiking and just being outdoors. Attending art and music festivals and visiting breweries are also some of his favorite activities.
With a zest for life, Dr. Derek and his wife enjoy exploring and traveling to new places and meeting new people. They are often accompanied by their two beloved Golden Retrievers.
Book an Appointment
Contact us today to schedule an appointment with Dr. Derek!

Dr. Derek Munson | Novo Chiropractic Sports & Wellness Center