Meet Dr. Monish Patel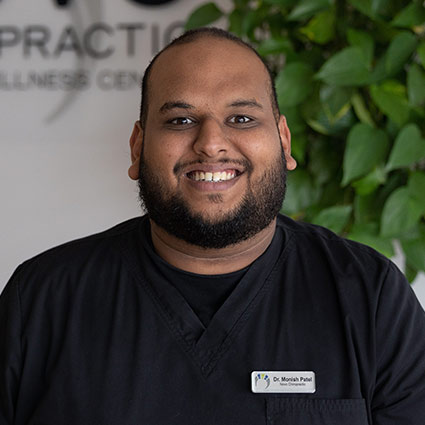 Dr. Monish's introduction to chiropractic started in high school when he began to shadow a chiropractor. "I knew I wanted to do something healthcare-related." He also played baseball in school and sustained injuries, for which he sought help from that chiropractor. "The chiropractor ended up becoming my mentor, and he explained to me how the body has a natural ability to heal itself."
It All Just Clicked
Dr. Monish was so intrigued by chiropractic's natural approach to health care that he shadowed the chiropractic all the way from his senior year of high school through chiropractic college.
My passion for chiropractic grew during that time, and I found it fascinating to listen to the patients and their different situations, what they've been through and why they chose chiropractic.
For Dr. Monish, it was inspiring to see how chiropractic gave them results.
When the chiropractor explained to Dr. Monish how chiropractic can help the body heal. It clicked for him. "I knew that I wanted to help people naturally without having to rely on medication."
Chiropractic Education
Dr. Monish earned his associate's from Ferris State University. He then earned his bachelor's of Professional Studies and Doctor of Chiropractic from New York Chiropractic College. When Dr. Monish did a month-long internship while in chiropractic college, he chose to do it with his chiropractor/mentor.
In addition to his doctorate, Dr. Monish is certified in the following:
Foot Levelers Custom Stabilizing Orthotics
Whole Food Nutrition
Many Techniques for a Spectrum of Patients
Dr. Monish uses various adjusting techniques, including Activator Methods®, Diversified and Gonstead, and can customize them to meet each patient's unique needs.
Although Dr. Monish enjoys caring for patients of all ages, he has a particular interest in seeing athletes. Chiropractic care can help them perform at their athletic best and decrease their chances of getting injured.
OUR SERVICES »
Outside the Practice
When he's not working, Dr. Monish loves hanging out with friends and family, and occasionally hiking. Born and raised in Canada, he uses every opportunity he can to go home.

What Our Patients Say
Dr. Monish Patel DC is awesome!! Very warm environment. I love it because they educate you about chiropractic. My body feels 100% better. The fear is gone. I'm able to move my knee/head without pain. I highly recommend the Novo Chiropractic team. Very professional! Since I have started my journey I have been pain free and back to being active with my daily life."

Nakea W.

Dr Monish Patel | (616) 538-9880