Chiropractor in Wyoming
Novo Chiropractic Sports & Wellness Center was originally opened in Grandville in 2015. As time passed, our team realized that chiropractic care needed to be more accessible to people in the greater Grand Rapids area. The decision was made to expand, with Wyoming being the site of our next location.
At our Wyoming office, Dr. Josh Konynenbelt and Dr. Monish Patel are our primary practitioners. Covering the needs of the south area of town, our practice is the place to bring your family. We offer all-ages care with an emphasis on pediatrics, pregnancy, sports, auto accident care, and provide a range of manual therapies in addition to chiropractic.
Our mission is to act as the leader in chiropractic wellness care in Wyoming. We strive to consistently provide high quality, efficient, evidence-based chiropractic care to families in our community. We see ourselves as partners with our patients as we move through pain relief and injury recovery together into a period of stabilization where we educate each and every patient to not only resolve their current problems but give them the education and tools they need to prevent issues in the future.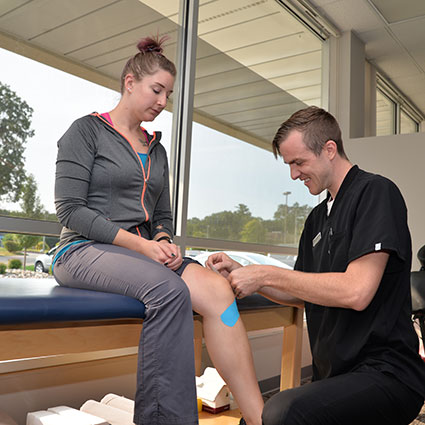 Helping Patients Thrive
At Novo Chiropractic Sports & Wellness Center, we're here for patients of all walks of life who want to get out of pain, take their health back, or simply live better. We proudly offer a variety of focused tools to help you do exactly that, from gentle chiropractic adjustments to people of all ages, sports injury recovery, manual therapy and more.
Patients often find help overcoming things like:
Back pain
Headaches
Disc problems
Knee and ankle issues
Neck pain
Carpal Tunnel
Sciatica
And more
Whether you're 1 or 100, there's something for you to discover with us – and that's a fully functioning and supported nervous system and spine. We know you'll love how you feel, and we can't wait to help you express your true health naturally.
Multiple Doctors Available
With five locations, we have several doctors on our staff who each have their areas of expertise. If we believe that you can benefit from seeing someone else, we'll refer you to them. When you become a patient with us, you'll receive all our combined knowledge and have it at your disposal. Two heads are always better than one!
"Dr. Josh is absolutely amazing! After only a few adjustments, I can already feel the difference. Novo Chiropractic is the way to go!" British C.
MEET THE TEAM »
We're a diverse community, and we love that our patients are made up of people of all ages and stages to life. To better accommodate people, we have Spanish-speaking employees and doctors. You do not need to speak English to become a patient with us.
When it comes to your health care, you don't want any surprises. We believe in honesty, transparency, and being straightforward with you. We really strive to make sure we understand "why" in every aspect of our work. Our "why" is our mission of being the leader in chiropractic wellness care. However, we know that each patient has their own why. We want to understand your goals and make sure we are on the same journey with you so we can meet and exceed your expectations while we work alongside you to get you to where you want to be.
At our first meeting, we want to know all about you. What problems you're experiencing, what you've been held back from doing and what you'd like to get from seeing us will all be covered. If we don't think that yours is a chiropractic case, you'll be informed immediately.
If we believe we can help you, you'll have an option to schedule an examination that will go in-depth and tell us about the true cause of your issue. Along the way, we answer your questions and concerns, making sure you feel fully informed. Your feedback is welcome at all times!
Novo Chiropractic Sports & Wellness Center is a positive, warm, and welcoming place staffed by people who are excited to see you. We think that your healing begins from the moment you walk in, so we strive to make you comfortable and enjoy your time with us. We think of our patients like our family. You'll receive the same high standard of care that we'd want our loved ones to have.
A Proud Member of the Local Chamber
Our practice is delighted to be a member of the Wyoming-Kentwood Area Chamber of Commerce. You can be confident knowing that we are committed to delivering exceptional care to our patients and remaining a trusted natural healthcare provider in the community!
Call Now
Are you ready to get started? Contact our chiropractic office today to schedule your complimentary consultation!

Chiropractor Wyoming MI | (616) 538-9880