Auto Accident Chiropractic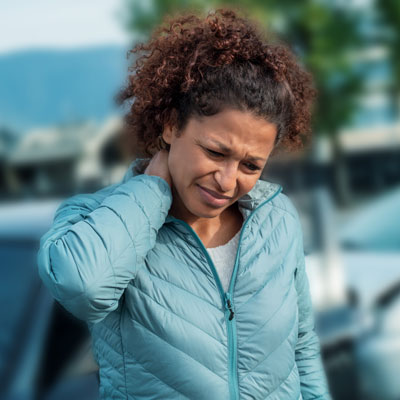 If you're involved in an auto accident, getting prompt medical attention is crucial. You may wonder why you should see a chiropractor after an accident. With hospital-based care and even emergency management at the scene of an accident, the focus is on looking for signs of the big, bad and ugly.
Do they have a concussion? Was there loss of consciousness? Are there any fractures or dislocations?
If those things are cleared out, people are often told that they're good-that means they survived. Of course, that's something to celebrate, but as chiropractors, we want to determine if there's underlying damage.
Chiropractic Looks Deeper
While we're thankful for ER doctors and EMS professionals, the problem with leaving it there is not looking deeper into the tissues, how they're affected, and just things that affect our everyday lives. With chiropractic care, we can look deeper and see the effect the injury had on your body, even though nothing is broken or dislocated.
If someone has a sprain, strain or injured disc, the condition is often written off as non-injury due to the nature of what these providers are (understandably) looking for; leaving the patient left without advice in terms of management, so usually the sprains, strains and disc injuries are left alone and patients are left with the thought 'I got in an accident and I'm sore.
Dr. Josh
The problem with this, is that although there is truth that these conditions are often non-emergent, the long term effects can and often are problematic. That is where chiropractic comes in. To evaluate and manage these conditions successfully now, avoiding future pain, discomfort and potential disability.
Did you know that even at low speeds, people can get whiplash? In fact, there's evidence that slow 5 mph accidents relate to potentially long-term issues. Some people don't think it's a big deal, but it becomes problematic and changes the behavior of our joints and muscles, and the way it affects our nervous system. And that can relate to longer-term chronic types of injuries that slowly get aggravated over time.
Sometimes that's enough to change the structure, and the next little thing happens like a wrong twist or turn, and you realize your body is hurting. It's the compounding effects of the accident, plus everything else.
Unlike a medical doctor, a chiropractor gives a whole-body evaluation. We assess the health of the bones, the joints, the muscles and the nerves, and when we do that, we're able to see things through our exam procedures that might not be figured out with a quick evaluation in an emergency management setting.
Again, medical doctors are looking for those big, bad and ugly issues to ensure you're allowed to go home and don't have a big complication. However, by doing that comprehensive evaluation, we might detect those small clues that you're not feeling yet.
Your neck might not hurt, but suddenly we start doing the evaluation and can aggravate pain in the disc, muscle or joint, and seek out the areas that still need healing. We want to address what we find now before you're dealing with something more chronic in the future.
Consider a chiropractor as a trusted resource, not someone just giving you acetaminophen, ibuprofen or prescription medications that have the risk of side effects and addiction. With chiropractic care, we can give you the healing help you need without any risks resulting in life-long wellness and mobility.
What Our Patients Say
I was in a car accident and I was in an extreme amount of pain. One week after the accident I was able to walk, bend over and clothe myself without assistance, I'm in less pain and the muscle spasms have calmed significantly. I am on the mend and blessed."
Stacey E.
Book an Appointment
If you've been involved in an auto accident, don't delay seeking care. It's always a good idea to get evaluated after an auto injury. You can get some work done even if your pain isn't severe.
Contact Novo Chiropractic Sports & Wellness Center today to schedule an appointment in Belmont, Cascade, Grandville, Jenison or Wyoming.
CONTACT US

Auto Accident Chiropractic in the greater Grand Rapids, West Michigan MI | Novo Chiropractic Sports & Wellness Center