Meet Dr. Josh Konynenbelt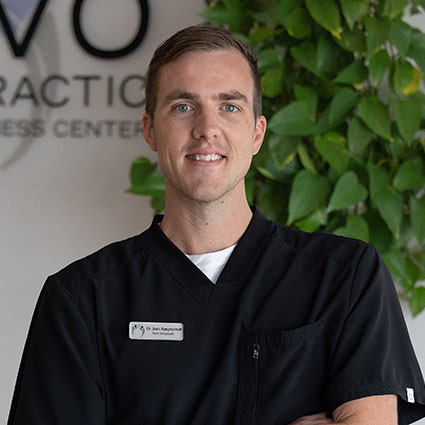 Dr. Josh loves seeing a change in his patients' perspective on health care. With an emphasis on education and teamwork, he stresses the importance of taking responsibility for your own well-being, becoming proactive instead of reactive.
Deciding on a Career in Chiropractic
While Dr. Josh was studying biomedical science at Grand Valley State, he wasn't sure which career was right for him. His girlfriend began having debilitating migraines without finding a solution. Finally, someone asked her if she'd tried chiropractic. The chiropractor explained the root of her problem and what the plan of action was. Dr. Josh's girlfriend went from having 20 migraines a month to just a few in a short time.
After these life-changing results, Dr. Josh knew he had to look into the profession. Though he and his family had been to the chiropractor, he'd never truly considered it a future path. To learn more, he shadowed his family's chiropractor and loved what he saw, deciding to make chiropractic his career.
In addition to his Doctor of Chiropractic, Dr. Josh has a master's degree in sports and exercise science. He is a Certified Chiropractic Sports Physician®.
A Passion for Natural Healing
Dr. Josh loves that chiropractic doesn't put anything in the body. It takes what you already have and works with it, empowering you to heal and perform better. Novo Chiropractic Sports & Wellness Center is a partner with the University of Western States and Palmer College of Chiropractic to be an extension of their faculty and do preceptorships.
As a people person, Dr. Josh loves to travel, make friends and get to know people. He is recently married and enjoys spending time with his wife and their Cavalier King Charles Spaniels. In his spare time, Dr. Josh likes to go to concerts and hang out with friends.
OUR SERVICES
Get Started Today
Novo Chiropractic Sports & Wellness Center is in-network with many insurances. Contact us today to set up your first appointment!


Dr. Josh Konynenbelt | (616) 538-9880