Meet Dr. Colleen Kill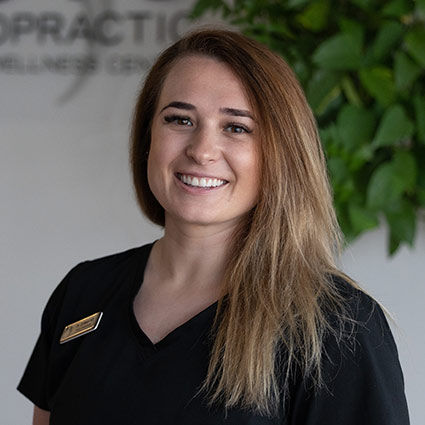 For most of her younger years through high school and college, Dr. Colleen was an avid athlete. At 15, she experienced significant shoulder issues. Not knowing what was going on, her mother took her to numerous doctors and specialists. Dr. Colleen was diagnosed with scoliosis and was told she'd need surgery and have to give up swimming. "I looked at my mom and said, 'There's got to be another option.'"
Dr. Colleen's mother took her to a chiropractor, who examined and adjusted her. Dr. Colleen experienced instant relief and said, "Yep, this is it!" That chiropractor said, "You know you'd make a great chiropractor! You should look into it." So she did.
Obtaining a Chiropractic Education
During her junior year of college, Dr. Colleen started interning at a chiropractor's office near her college. "I just fell in love with chiropractic and knew that this is what I want to do." As she was studying medicine, Dr. Colleen already had done the prerequisites for chiropractic college.
She earned a BS in Neuroscience from The College of Wooster in Ohio, and attended Palmer College of Chiropractic in Davenport, graduating in 2019.
Working With Many Types of Patients
As a longtime athlete, it's not surprising that Dr. Colleen particularly enjoys working with athletes. As she also experienced scoliosis, Dr. Colleen likes working with those who have scoliosis. In addition, she has a lot of experience providing extremities adjusting and a considerable background working in rehab at her school and radiology. Dr. Colleen also enjoys working with kids and has attended many seminars on pediatric chiropractic topics.
A Passion for Helping People
What Dr. Colleen finds most fulfilling about being a chiropractor is getting to help people who have been in pain for so long.
Changing their life and their lifestyle is really rewarding.
Energetic with a bubbly personality, Dr. Colleen puts patients at ease right away. Some people have heard stories about chiropractic and are unsure or scared. She helps them to feel comfortable and welcome from the very first visit.
Dr. Colleen herself is passionate about staying healthy and taking care of herself so she can serve as a positive example for her patients.
OUR SERVICES
Outside Novo Chiropractic Sports & Wellness Center
When she's not working, Dr. Colleen likes to spend time with family and friends. She enjoys being outdoors and staying active. Dr. Colleen starts every day out with a workout, doing a combination of cardio and weight lifting. She also enjoys running and swimming. Getting together with friends is important to Dr. Colleen. She loves spending time with friends after work, whether meeting them for dinner or going to an event like a concert or sporting event.
Though her family lives on the other side of the state and she doesn't get to see them as often, they like to take trips to the beach whenever possible.

What Our Patients Say
Dr. Colleen and her team were so welcoming from day one. I've been coming along with my husband for almost a year and we couldn't be happier. Less pain AND healthier day-to-day. If you haven't started and are skeptical, just do it

Niki H.

Dr. Colleen Kill | (616) 942-8770