Meet Dr. Brad Walling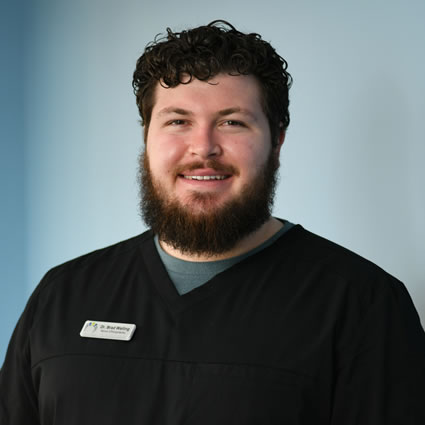 For Dr. Brad, chiropractic helped him through high school sports and collegiate athletics. During his undergrad years at Ferris State University, he played on the golf team. "With the twisting of the golf swing and all the movements in my back, without chiropractic, I wouldn't have played nearly as well as I did."
A Desire to Help Others
Dr. Brad knew from high school he wanted to help people, but wasn't sure what path to take. Knowing he wanted to be some kind of doctor, he shadowed some MDs. Then he went to the chiropractor and realized he would rather be a chiropractor.
I'm more of a hands-on person, and chiropractic seemed like a great fit for me."
Chiropractic Education & Continuing Education
After earning his bachelor's from Ferris, Dr. Brad attended Northwestern Health Sciences University in Bloomington, Minnesota, where he earned his Doctor of Chiropractic. While in chiropractic college, he went through the sports emphasis route and took some extra classes in the following areas:
Sports physicals
Concussion testing
Youth sports and education for parents
Education for coaches regarding concussions and physical testing
Extremity adjusting (elbows, wrists, knees, hips, etc)
Coming Back to Western Michigan
Dr. Brad grew up in Big Rapids, Michigan, where Ferris is located. His parents are professors and faculty at the university, so he has strong ties to Western Michigan. After chiropractic college in Minnesota, he always knew he wanted to return to Michigan.
In particular, Dr. Brad loves being close enough to Lake Michigan. "There's something beautiful about the lake shore, and I like the community aspect of Western Michigan. It feels like home, even though I'm not quite at home."
In his spare time, he still enjoys playing golf regularly, fishing and being outside, connecting with nature.

Dr. Brad Walling | (616) 259-9835