Meet Dr. Lisa Konynenbelt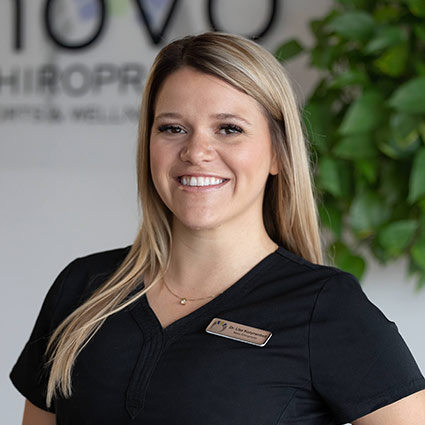 A longtime migraine sufferer, Dr. Lisa had seen about every doctor in the book ranging from her GP to a neurologist. While she was prescribed a lot of medication, Dr. Lisa was given little hope. "As my last-ditch effort, I saw a chiropractor and ended up getting good results." Dr. Lisa's migraines were reduced from approximately 15-20 a month to 3-4 a week. These days she gets maybe one a month.
Chiropractic Education
Dr. Lisa graduated from the University of Western States in Portland, Oregon, in 2015. She's also certified in the Webster Technique, which can help with pregnancy pain, such as sciatica. Dr. Lisa also is accredited through the ICPA to treat children and is Graston Certified, which is a soft tissue technique.
Connecting the Dots for Patients
Warm, welcoming and nurturing, Dr. Lisa has a good bedside manner that puts patients at ease. In addition to being a doctor, she sees herself as a teacher too. "I try to connect the dots for people-drawing the big picture of their health.
She wants to teach patients how to avoid problems or get better faster.
What I always try to do as a doctor is put myself in the patient's shoes because I've been there. I'm still a patient; I'm a lifelong patient.
Caring for a Spectrum of People
From helping prenatal and pediatric patients to families, athletes and seniors, Dr. Lisa enjoys caring for all ages. She considers chiropractic to be a baseline in terms of being essential for people's health care. She wants patients to put power in their hands instead of relying on prescription medication.
Here are some examples of how she's helped different patient populations:
Pregnant Women
"I care for lots of pregnant women who understandably don't want to put any medication in their bodies." She can help with pregnancy-related pain and help to promote an optimal birth. "I see chiropractic and pregnancy going together, like peanut butter and jelly."
Migraine sufferers
As Dr. Lisa was on every medication under the sun for her migraines, she is particularly passionate about helping others with migraines. "Medications have lots of bad side effects, but chiropractic provides effective natural relief."
Seniors
One of Dr. Lisa's patients was a 70-year-old man with severe sciatica. He had never been to a chiropractor. The man's daughter said he had an older school mentality and had been closed off to chiropractic. After taking a thorough history, performing an exam and telling the patient about his condition, he said, "I don't have any questions, just a comment. This is the most I've understood my health and body from any other doctor I've seen."
Children
"I teach kids that if they can start natural care now and see a doctor that's more preventative-based, then they need less medication." Dr. Lisa can address a broad array of childhood conditions such as latching difficulties, ear infections, sleep issues and more.
OUR SERVICES
Outside the Office
When Dr. Lisa isn't working, she enjoys spending time with Dr. Josh and their two amazing dogs. During quarantining, they discovered that gardening and exercising were their favorite hobbies. Dr. Lisa, who grew up on the lakeshore, loves spending time at the beach, float boating, kayaking and paddleboarding. She also enjoys hiking, watching movies and hanging out with friends.

What Our Patients Say
I have had back pain since having my c-section and Dr. Lisa has given me tips to strengthen my core and coming to the chiro always helps my lower back pain. We love Novo and take our whole family every month to get adjusted! Dr. Lisa and Dr. Josh are the best!"

Corrin W.

Dr. Lisa Konynenbelt | (616) 259-9835