Meet Dr. Eric Wink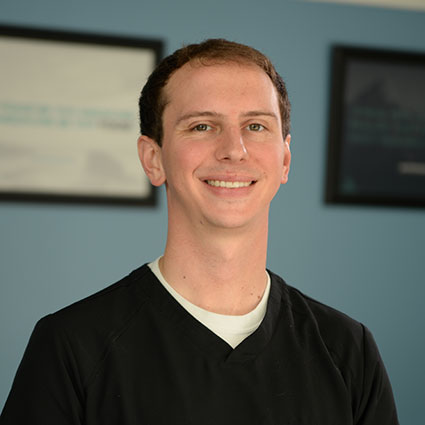 I love the ability to be able to help people and to give answers to those who have felt they haven't gotten ones to problems they've been having.
Experiencing the Effects of Chiropractic
When he was younger, Dr. Eric had a bad shoulder issue and went to see an orthopedic surgeon, MDs and PTs to get relief. Despite seeing multiple practitioners, Dr. Eric didn't get any resolution for his problem. He discovered chiropractic and wanted to see if it could help him. "The chiropractor explained the nervous system to me and started adjusting my spine. The care completely resolved my shoulder issue."
At the time, Dr. Eric was on the pre-med path, preparing to become a psychiatrist. He realized he wanted to go in a new direction and find a drug-free form of health care that could get people incredible results. He started to look into chiropractic and fell in love with the profession.
Dr. Eric earned a Doctor of Chiropractic from Life University in Marietta, Georgia, in 2018. He's been working at Novo Chiropractic Sports & Wellness Center since graduation. He also is certified in the Webster Technique to help pregnant women. Dr. Eric is working toward getting certified with the International Chiropractic Pediatric Association (ICPA).
Dr. Eric loves working with kids and likes that chiropractic is a way to help them start their lives off in the right direction. His natural chiropractic care can address common conditions like colic and ear infections.
Dr Eric is awesome and the entire staff is welcoming and friendly! I sought chiropractic care while pregnant and feel in great hands. Sara H.
A Passionate Advocate for Chiropractic
Dr. Eric is a big proponent of education and loves being able to educate his patients. He is highly thorough in explaining to patients what's going on with their health and why. Dr. Eric hopes to expand the message of chiropractic beyond our practice.
"I'm fired up about chiropractic and think the message needs to be told to more people." Dr. Eric looks forward to educating the community on the benefits of chiropractic and keeping the nervous system healthy.
Given the opioid epidemic, Dr. Eric finds it fulfilling that more people are considering chiropractic care for pain relief versus taking addictive painkillers. "I believe we are starting to make a difference in that direction, which I find very exciting for health care." Dr. Eric's hope is that people will become happier and healthier by seeking chiropractic as an alternative to medication.
OUR SERVICES
In His Spare time
Outside the practice, Dr. Eric enjoys working in his backyard bonsai garden. He also likes reading and music.

Dr. Eric Wink | (616) 427-3210