Meet Dr. Bailey Brogan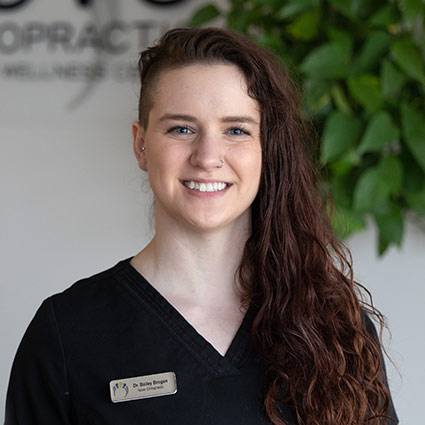 Early on, Dr. Bailey knew that she wanted to work with people in some capacity. As she was completing her undergraduate studies, however, she hadn't figured out exactly what she wanted to do. "At that time, I was interested in human health sciences and started looking into various career paths."
What stood out to Dr. Bailey about chiropractic was that it was reliant on the body's ability to heal with just a "little push." As an athlete, she loved health sciences and was fascinated by how capable the body is of healing itself.
Discovering Chiropractic Care
Recognizing that chiropractic was something she could buy into as it aligns with her beliefs, Dr. Bailey decided to attend chiropractic college. With a bachelor's under her belt from Cornerstone University in Grand Rapids, she went on to earn her Doctor of Chiropractic from the National University of Health Sciences in the Chicago area.
Dr. Bailey also achieved the following:
Webster Certification
Fascial Movement Taping (Basic & Advanced) Certification
Accreditation through the ICPA for treatment of pediatric patients
In December 2022, she will have her Master's in Sports Science and Rehabilitation from Logan University.
Helping Patients Get Back to What They Love
Dr. Bailey finds it particularly fulfilling to change-even revolutionize-her patients' lives with our natural care.
While we're not doing anything magical, what we do allows people to return to the things in life that they love-such as picking up their grandkids.
She gets great satisfaction out of witnessing the incredible changes in people after they receive chiropractic care.
OUR SERVICES
In Her Spare Time
Outside the practice, Dr. Bailey loves to run and lift weights at the gym. She also spends a lot of time with her dog, a Lab mix rescue. Dr. Bailey loves the small-city feel of beautiful Grand Rapids, which she grew up in, and enjoys having her parents and extended family in the area.
Schedule an Appointment
Friendly and caring, Dr. Bailey takes the time to listen to her patients. She looks forward to changing the lives of area residents through chiropractic care.
Contact us today to book an appointment with Dr. Bailey!

What Our Patients Say
The staff here is incredibly friendly. Dr. Bailey always gets my spine feeling better after I beat myself up working all the time. They're always willing to squeeze me into the schedule when I have rough days. They even let me bring my dog!"

Matthew M.

Dr. Bailey Brogan | Novo Chiropractic Sports & Wellness Center