Meet Dr. Hailey Watkins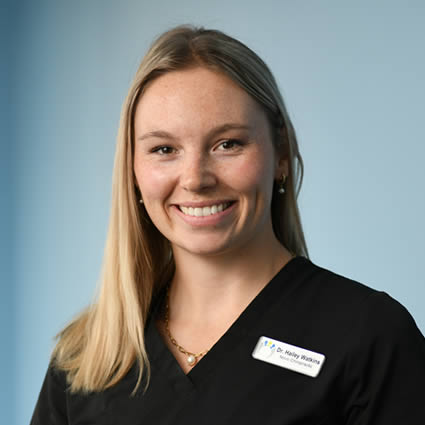 Dr. Hailey has always been athletic and played multiple sports in high school and golf in college. The Grand Haven, Michigan native knew she wanted to help athletes in some type of health capacity, as well as non-athletes, do what they love in life.
That's why I went the health route, because I valued it so much and wanted everyone else to value health too."
Education & Certification
Dr. Hailey earned her bachelor's in kinesiology with a rehabilitation sciences focus from Lake Superior State University. From there, she knew she wanted to do chiropractic, physical therapy, or something else in the health sciences. She chose to attend Palmer College of Chiropractic in Iowa, where she earned her Doctor of Chiropractic in 2023.
Discovering Novo Chiropractic Sports & Wellness Center
"Halfway through chiropractic college, I shadowed here and loved that there were many strong women doing chiropractic—something I hadn't seen through school or any other places where I shadowed."
Dr. Hailey got to know Dr. Lisa and Dr. Bailey when she did her shadowing. "They were so good at what they did and took time to explain to me what they were doing. I felt so welcomed and liked that I was learning so much more here."
As she also loved the practice environment, Dr. Hailey asked if she could do her precepting here, which she did for her last trimester of chiropractic college. "It was a good way to finish my schooling."
Before Dr. Hailey did her precepting at the practice, she did the Veterans Affairs program at the Chillicothe, Ohio VA hospital for one trimester.
Besides her doctorate, Dr. Hailey is certified in Functional and Kinetic Treatment with Rehabilitation (FAKTR), a soft tissue technique. She's also taken multiple courses in the McKenzie Method—Mechanical Diagnosis and Therapy® (MDT).
OUR SERVICES

An Affinity for Staying Active
In her spare time, Dr. Hailey loves anything outside. As she attended college on a golf scholarship, she still loves to play. She also enjoys being on the water, whether tubing, boating, or water skiing, and likes to play tennis. In the winter, she likes to ski downhill and cross country.

Dr. Hailey Watkins | (616) 259-9835