Meet Dr. Jacolyn Mullins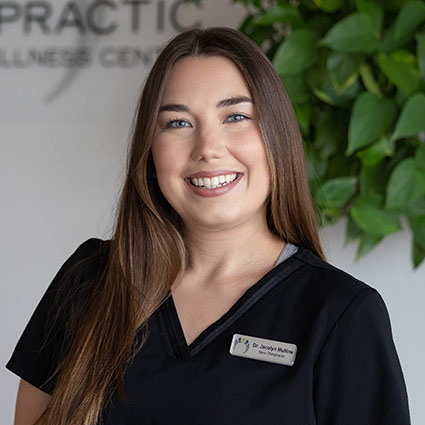 At age 7, Dr. Jacolyn developed a stiff neck after jumping on a trampoline. "My stepdad asked my mother, 'why don't you just take her to the chiropractor?'" Her mom replied she hadn't thought of it, but chose to take her and remained under care.
As an athlete, Dr. Jacolyn appreciated how chiropractic allowed her to stay active and do what she loved.
Education & Certifications
In 2018, Dr. Jacolyn earned her BA in Biology from Adrian College. Then, in 2022, she earned her Doctorate of Chiropractic from Palmer College of Chiropractic. She's also certified in the Webster Technique and looks forward to getting additional certifications so she can take care of every member of the family!
A Passion to Help Others Naturally
"My grandma, whom I'm named after, always had a lot of back issues and had several surgeries. Unfortunately, she became dependent on opioids and pain medication in general."
Dr. Jacolyn's grandma declined due to her reliance on painkillers. "This took a toll on our family, so I want to help people. By providing care to one person, that will automatically help so many others. Then their friends and family will see the benefit and come in to get care."
With a passion for assisting every family, Dr. Jacolyn wants to help people live their best lives and enjoy a high quality of life.
Family & Favorite Activities
When she's not at the practice. Dr. Jacolyn loves to play rec and sand volleyball. She also likes walking and going to different parks in the area. Checking out farmers markets and heading to the beach in the summer are other favorite activities.
Dr. Jacolyn is originally from Reed City, and her family now lives in Hamilton. As her family is only about 40 minutes away from Dr. Jacolyn, she enjoys spending time with her family whenever possible. Her sisters and brother are athletes and she get to adjust them so they can perform at their best.

What Our Patients Say
I am moving so much better after chiropractic care. Dr. Jacolyn really takes her time and makes sure to focus on the areas that need work."

Aimee P.

Dr. Jacolyn Mullins | (616) 427-3210