Meet Dr. Trey Schuler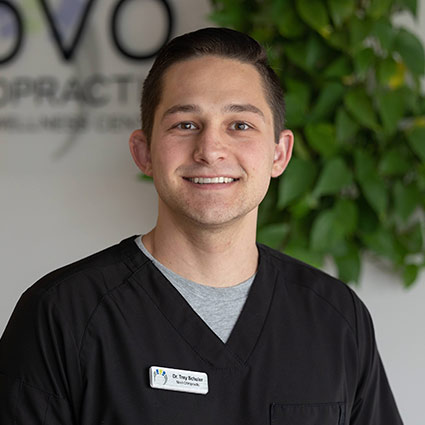 Growing up in Iowa, Dr. Trey's mother went to the chiropractor as part of her health and wellness regimen. "She was very holistic with raising us growing up, and gave us the least amount of medication possible." As a high school and collegiate wrestler, Dr. Trey would regularly see the chiropractor to get "tune-ups" and to feel good before his matches.
Deciding on the Chiropractic Route
While an athletic training student during undergrad, Dr. Trey was focused on rehab. He did a month-long internship with a physical therapist, who was unhappy with his job. That ended up dissuading Dr. Trey from pursuing a career in PT.
Dr. Trey remembered all his times visiting the chiropractor, and always loved his experiences and felt at home.
As a chiropractic patient, I never dreaded going to the chiropractor. You also leave happy, feeling better than when you arrived.
What solidified his decision to become a chiropractor was a visit to Palmer College of Chiropractic in Davenport, Iowa. There, he fell in love with chiropractic again. "I was able to find a happy middle ground with being able to continue to do rehab but also be able to adjust."
Chiropractic Education & Techniques
After earning a BA in Athletic Training from Coe College, Dr. Trey earned his Doctor of Chiropractic degree from Palmer in 2022. He typically adjusts patients using Palmer Diversified, Palmer Gonstead, and Activator Methods®, and can tailor care to meet each patient's unique needs. "With those three different types of adjusting approaches, you can adjust anyone from a baby to a 100-year-old."
Dr. Trey enjoys providing customized, not cookie-cutter, care to his patients.
OUR SERVICES
Helping Athletes Perform at Their Best
As sports were a big part of Dr. Trey's upbringing, he looks forward to giving back to the sports community and treating them with chiropractic care. "People don't realize that they're hurting or that their body isn't functioning at its highest capacity. I can show them through chiropractic that we can help them function and perform at their highest ability."
In His Spare time
Outside the practice, Dr. Trey loves to stay active and work out. He hopes to one day get back into wrestling.
Schedule an Appointment
Contact us today to book an appointment with Dr. Trey!

What Our Patients Say
I am now a firm believer in chiropractic care. I was having back pain that went down my leg making it hard to walk and bend. Within 4 weeks I have felt a drastic difference and no longer have that pain! Treatment went as Dr. Trey said it would."

Ciara G.

Dr. Trey Schuler | (616) 498-8554